Buckin' Ohio is a family owned and operated bucking bull ranch.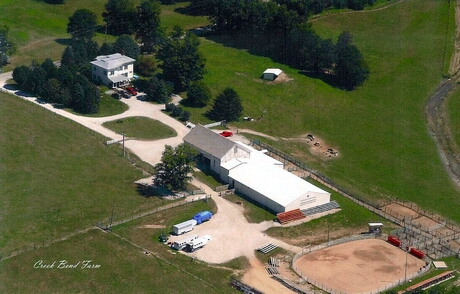 Denny Thorsell and his family have been breeding bulls for decades and providing pure country entertainment for over 13 years.  As a young man, Denny Thorsell never thought he would be able to live his dream of being a cowboy.  After going to work on a ranch in Texas at age 15 and then becoming a horse trainer (cutting, reining, and halter horses), that dream came to life.
Later, when his son, Shawn, started riding bulls in high school, Denny discovered a love and appreciation for these amazing animals… the bucking bull, an athlete comparable to no other.  Thus, a new dream of a different kind of cowboy was born.
In 2009 Buckin' Ohio was featured on the fox 8 television show That's Life with Robin Swobota. What a great job they did. Thank You Fox 8 and Robin we appreciate you joining us.
Creek Bend Bucking Bulls & Buckin' Ohio were recently featured on "Our Ohio" Television program. Buckin' Ohio is quickly growing as a premier summer destination. Buckin Ohio was awarded SEBRA Stock Contractor of the Year in 2012 and 2013. Buckin' Ohio was also honored to be awarded the Ohio Traveler Award in 2013.
The Thorsell's believe in strong family values and in giving back to the community in which they live and work.  Each event gives us an opportunity to partner and support a local charity.
"We'd love to have you visit our ranch. We're proud to own one of the only working bucking bull ranches in Ohio — where we live the cowboy life every day."
We Are Buckin' Ohio